Information pertaining to the Inter-Counties at Middlesbrough is below.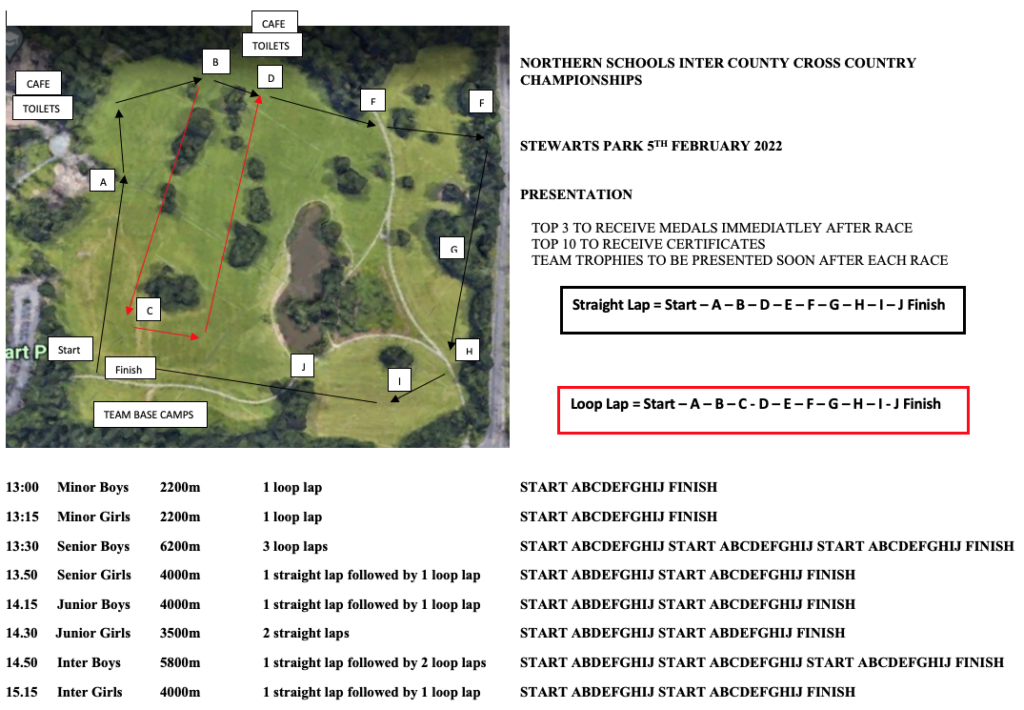 TRAVEL ARRANGEMENTS + PARKING
TRAVEL ARRANGEMENTS + PARKING
TS4 3SL this tends to bring you round to the main car park. Parking arrangements will be limited, but we have been given permission to use Middlesbrough Sports Village (TS4 3AE) as an overflow car park from 11am (due to football arrangements at this site). This is a 5 minute walk to Stewarts park.
On the Day
Please arrive with plenty of time before your race. This will allow registration and numbers to be distributed (please bring Safety pins). The first race is at 1.00pm, so have this in mind especially if you are wanted to walk the course. Registration needs to be made at the North Yorkshire tent/Base.
We have a very large and strong team scheduled to race on the day (100 athletes). Please understand that staff will therefore require athletes to take responsibility with punctuality and preparation.
Kit
Collected on the day at the North Yorkshire registration.
Athletes will compete in the North Yorkshire vest and black shorts. Base layers can be worn, ideally plain black.
COURSE/TIMETABLE
Course is on grass with some stretches of mud and minimal crossings on path (approx. 3 times no longer than 3m) Includes gradual uphill /downhill sections and best suited to spike/studded or fell shoes.
Presentation of medals straight after each race for 1-3rd (certificates to top 10) and team trophy within 10 minutes of the last runner in each race near to the finish funnel. Overall trophy will be presented ASAP after the last race.
REFRESHMENTS, TOILETS & FIRST AID
There will be refreshments available to purchase at Stewarts Park. There are 2 cafes, one is located near park toilet block and one in the museum (this also has access to toilets). Toilets are located near main car park, just a short walk required. We have been directed to ensure the toilets are well respected by all attending the event and they remain in the state we would expect to have seen them at the start of the event.
First Aid is by Medics UK.
COVID
Athletes, Parents and staff are NOT TO ATTEND THE EVENT if showing any covid-19 symptoms or are feeling unwell in any way!
Please bring appropriate sanitising gels etc.
Please respect others social distances at all times.
Contacts
If there are any issues leading up to the event, please email me direct om Kieron.hall@nysaa.org.uk
Any last minute problems on the day, then I can be contacted as an emergency on the following number: 07930417338